A few evenings ago, while sitting in traffic on my way home from a long day at the office, I noticed a gentleman who was cautiously navigating the ice and snow patches, riddled all over the partially shoveled and salted sidewalk. From behind, I could also see that he had something in his left hand, that from my vantage point, appeared to be a leash.
"Hmmm, I wonder why he would choose to walk his dog on such a busy street?", I thought to myself.
As traffic began to ease, I was able to get closer to this man, that now had a good percentage of my attention.
"What's this guy's deal?", I said aloud.
All of his movements were so cautious and intentional. It was almost as if he were testing the ground underneath his feet before taking the next step.
A moment or two later, my car was almost parallel to this guy who had now become the main object of my curiosity.
"I wonder what kind of dog he has?", I thought. "Must be a small dog.", I deducted, since I couldn't make out the back of the dog from my now closer view.
The light ahead turned green and I was now able to pass the gentleman I had been visually stalking for the past one hundred and twenty seconds.
As I drove by my heart sank.
This man was not walking a dog.

The object in his hand, that I had mistaken for a leash, was a white cane. The reason he had been moving so cautiously was because he was visually impaired.
I immediately began to admire his courage!
I was thinking, "Would I leave the house on a cold, icy evening to accomplish whatever task needed to be addressed if I could not see?"
Many of us who have been blessed with all of our faculties still find just about every excuse not to do the things we KNOW we ought to be doing. We often let the most minor of inconveniences serve as just another reason to sulk and give up on our responsibilities, goals and dreams.
All too often, we let the normal mishaps of life completely derail us.
We get discouraged if we have a flat tire. We complain about sore muscles or other temporary physical ailments. We get impatient with needy family members and friends.
We also tend to give up when circumstances don't go our way and present the challenge of more work and more perseverance to accomplish our goals.
Maybe the problem is...we've just had it too easy.
So many of us are trying to escape the 'pressures' of life, but the irony is we have no idea what pressure really feels like.
If anyone deserves a little 'drinky drink' to take off the edge after a long 'hard' day, I would say it's that gentleman who is visually impaired, walking on a busy street, through ice and snow with a white cane either going to get something DONE or coming from having DONE it!
Yet, so many of us tell ourselves the sob story of our simple troubles to justify the stress we place on our own backs. We've all heard somebody proclaim, "I don't know if I could take anymore.", while pitifully shaking their heads.
I'm guilty of this statement as well.
However, someone else IS taking more; and by the way they're taking it with courage and grace.
This week, and for the weeks to come, let's start living our lives with more courage and choose to look at our circumstances through a lens of gratitude.
Things can always be worse. Things can always get worse. So, let's be grateful for those inconveniences, because many times they are the mere shadows of our blessings.
For instance...
That flat tire belongs to a car. Be grateful for the car.
Those sore muscles or temporary ailments belong to a healthy body. Be grateful for your health. The needs of our family and friends is what intrinsically binds us together. Be grateful for the love of family and friends.

Let's change our perspective. Let's change our lives. Let's work on being a bit more courageous and grateful!
---
About the Author:
Linal Harris
Global Entrepreneur - Certified Life Coach - Media Personality - Speaker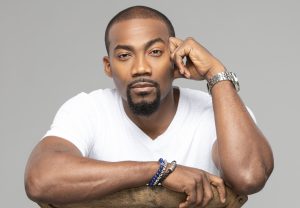 Linal Harris is a global entrepreneur, certified life coach, author, and media personality. As the founder of Inspirational Perspective® Publishing, LLC and Insights 4 Life™ Coaching, LLC, Harris challenges his global audience and coaching clients to
Murder Mediocrity®
and live their best life possible. Harris concentrates his work as an ontological coach with clients on what he calls the 4 pillars of life; the relationship we have to ourselves, the relationships we have with others, our relationship to work and money, and the connection we have to our spirit and life's purpose. Harris coaches CEO's, executives, entrepreneurs, athletes and celebrities. Harris is the author of "
Slay Your Goals
", where he provides his readers with scientific and research backed tips for achieving their goals. Harris is an expert goal-setter and has been called upon by Fortune 500 companies to assist with setting their strategic priorities, facilitate goal-setting sessions and provide inspirational talks.
To stay connected, be sure to follow me on the following social media outlets by hitting the links below:
For daily inspiration - text "INSPIRED" to 43783 - Enrollment is free!